Wednesday 25 July 2012
Robert Pattinson don't even THINK about forgiving Kristen Stewart for cheating on you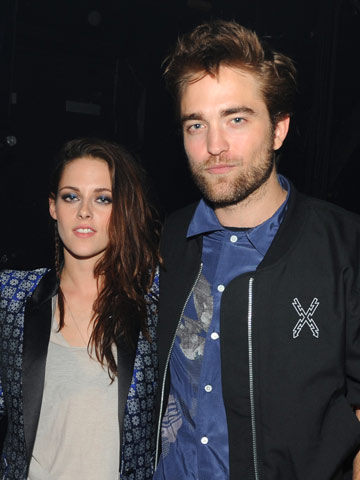 Kristen Stewart says she is 'so sorry' for cheating on Robert Pattinson
Kristen Stewart
has announced she's 'so sorry' for deciding to cheat on
Twilight
boyfriend
Robert Pattinson
by snogging director
Rupert Sanders
' face off.
Damn right she should be.

The photos, which show them making out in a car, are so passionate they could feature as a scene from the yet-to-be-made Fifty Shades Of Grey film.

But it's not just the fact that Kristen did this that's so heartbreaking. It's the person she chose to do it with.

If it wasn't enough of an insult that she decided to snog an older - and may I add much less attractive - man than R-Pattz, there's the added element that Rob knew him.

They had hung out together on the set of Kristen's film Snow White And The Huntsman.

K-Stew whines in her statement apologising that she's 'jeopardised the most important thing in my life, the person I love and respect the most, Rob. I love him, I love him, I'm so sorry.'

Er, surely she's done more than 'jeopardise' their relationship? Surely she's well and truly hammered the final nail in the coffin?

Can R-Pattz really be considering staying with her? Oh God, really?

The craziest thing about Kristen's behaviour isn't just the fact that she was dating the BIGGEST CATCH ON THE PLANET, but also that they had genuinely started to look happy together recently.

After years of performing a tiresome 'we won't look like we actually like each other in public' charade, something weird had begun to happen of late.

They had performed a Christian Grey-style defrost. A couple of PDAs had been allowed. Kristen had actually, whisper it, cracked a smile in his presence.

They had started to look like they were so in love the attention no longer mattered.

I pored over the photos of them when they went to Comic-Con on 12 July and couldn't get over how happy he looked with her.

In one shot, Kristen is talking and Rob is looking at her with the kind of adoration only Pudsey the dog shows towards Ashleigh.

We now know that just five days after that photo was taken she was kissing another man.
Ironically, R-Pattz recently spoke of his disbelief that anyone would choose to
be unfaithful, saying: 'There is one thing I've never understood: Why
people cheat. My parents met when my mum was 17 and my father 25, they
are still together, and seem very happy.

'I grew up believing that you can be together all of your life.'

His friends say he 'worships' Kristen and marriage clearly wasn't far from his mind.

When asked about rumours they had secretly got engaged he said: 'No one ever knows what is true or what isn't. Even my own mum called to ask me if it was true. It's not. At least, not yet.

'But it is true that Kristen has always done something to me that others haven't.'

Oh Kristen, you stupid woman, what have you done?
SEE PICTURES Robert Pattinson and Kristen Stewart are so in love at friend's wedding>>
SEE PICTURES Robert Pattinson and Kristen
Stewart kiss at MTV Movie Awards>>
SEE PICTURES Robert Pattinson stars in Twilight - an international phenomenon>>